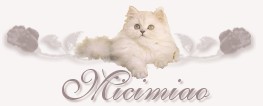 LITTLE LAZZARO
Pity,pity!
For this poor creature;
he's only a puppy from Maremma
hardly without a face: blind perhaps.
His body covered in sores;it has a scent of sweetish meat;
he is a painful dead dog walking.
Quiet he strolls, day and night,
and eats apart with the cats.
then he makes his way
and, like a ghost, fades away into the country.
One day Lazzaro didn't appear.
I would have liked and should have been close to him
The day of his passing away and comfort him like a pitiful friend.
What great sorrow and suffering;
no one helped me;it was disgusting.
I'm still crying for him.
It's a deep deserved feeling that fills me with anguish.
Rome,Feb. 3, 1996
Leopold Persidi
---
THE LIGHT HOUSE
They are not daydreams but paths and feelings of the soul.
It's only a refuge:
lucky are those who land on this site,
poor creatures deprived of dignity for a long time.
Here they find love and relief
And a renewed confidence in friendly men
And serenity and new hope for life.
Here there's no difference of species
But a deep affinity for feelings and affection.
Here you don't simply exist but live!
Until their last breath they are surrounded with love
And pity weeps and travels with them.
Here in this site of charity and in many others, somewhere else,
Man ennobles himself.
It's a great joy to welcome these lost pilgrims.
There's a tremor of anxiety, a steady worry
But in the end the heart wins every adversity.
The lighthouse is the light of hope
And happy are those creatures who dwell there.
LEOPOLD PERSIDI ROME Oct 8, 2003

---
DELIBERATELY
To get rid of them is so easy
All you have to do is desert them.
It's a tragedy that worsens my suffering
But strenghtens my love for them.
Nothing distracts me
Even if I'm plunged into deep trouble.
Everyday as yesterday and tomorrow
They abandon these poor creatures
Deliberately thrown out.
Now it's time for pity to triumph
and I give them a sweet welcome
Here they are! They are in a pitiful state
Burdened with aches and pains
They cry; they need care and love.
While society is far away from pity
My love overcomes and greets them all
With an embrace.
My heart is filled with joy
I don't care about all the gold in the world;
I'm among them
I'm moved to tears.
How lucky of me, meeting these sweet creatures.
You don't know what you miss poor ignorant!
It's bad for the soul to part from the world
Having not accomplished an innocent wish.
Leopold Persidi
---
AN ABANDONED KITTEN
How can I say no to an abandoned kitten?
I welcome it and warm and feed it
I'm moved by its sorrowful crying
Love always prevails and ties me
How sweet the magic of this dismayed creature;
How deep the pity that pervades me.
I stand moved and happy
And,if by magic, I get lost.
Little tiny creature:as a vision you stnd by me
Yuou don't have your mother's tender cares any more.
I can hug you;wipe your tears away
I can feed you and comfort you.
The later we'll be friends in perfect affinity
Now take a rest; good night and sweet dreams.
I'm close to you; you are aloe no more.
Leopold Persidi
---
MY FELINE COLONY
As dawn cries in the morning
For its dead son killed by Achilles
So do I everyday
For my little friends who are not here anymore.
I feel more like them and less like my fellow men.
And if some of them suffer and die I am pained;
all my being suffers and something dies within me.
They love making their way from the colony, back and forth
Close by me in the Aniene valley.
They play , run after each other;
if I stop they stop, if I move they move;
some of the youngest cry feeling lost;
I call them ,I wait for them
And all together we rest on some rock.
I sit down and they climb on my shoulders
On my knees and on my head
In endless caresses.
They take turns getting jealous,
waiting to be pet.
It's a joy and the warming sun in the morning and the evening
Rejoices at seeing us all.
Leopold Persidi
---
FORGOTTEN
Be generous! Throw bunches of lilies on children's tombs .
Delicate verse of Virgil" That's right and proper .
But who will keep in mind my little friends Forgotten in shrubs, tufaceous stones and weeds?
It's only my duty to weep for them And give my love with open arms From my heart like pure and sincere breeze .
They are like children too! A thistle ,a daffodil , a daisy will grow on their graves .
These are pity's flowers , cyclic and spontaneous; and my heart is also a flower never forgetting them .
My soul weeps for all things around us that seem pitiful .
Birds with their bent heads don't sing any more .
Emotion reigns; there's no room for smiles .
Leopold Persidi
---
" Prayer Of A Stray"
Dear God please send me somebody who'll care!
I'm tired of running, I'm sick with despair.
My body is aching, it's so racked with pain.
And Dear God I pray as I run in the rain,
" That someone will love me and give me a home.
A warm cozy bed I can call my own
My last owner neglected me and chased me away
To rummage in garbage and live as a stray.
But now God I'm tired and hungry and cold.
And I'm afraid that I'll never grow old.
They've chased me with sticks and hit me with stones
While I run in the streets just looking for bones!
I'm not really bad God, please help if you can.
For I have become just a "VICTIM OF MAN!"
I'm wormy Dear God and I'm ridden with fleas and
All that I want is an owner to please!
If you find one for me God, I'll try to be good
I won't run away and I'll do as I should.
I don't think I'll make it to long on my own,
Cause I'm getting so weak and I'm so all alone.
Each night as I sleep in the bushes I cry,
Cause I'm so afraid God, that I'm gonna die!
And I've got so much love and devotion to give,
That I should be given a new chance to live.
So Dear God PLEASE, PLEASE answer my prayer
And send me somebody who WILL really care...
Adapted from John Quealy Prayer of a Stray
---
The Little Cat Angel
The Ghost of a little white kitten,
Crying mournfully, early and late,
Distracted St. Peter, the watchman,
As he guarded the heavenly gate.
" Say, what do you mean," said his saintship,
" Coming here and behaving like that?"
" I want to see Nellie, my missus,"
Sobbed the wee little ghost of a cat.
" I know she's not happy without me,
Won't you open and let me go in?"
" Begone," gasped the horrified watchman,
" Why the very idea is a sin;
I open the gate to good angels,
Not to stray little beggars like you."
" All right," mewed the little white kitten,
" Though a cat I'm a good angel, too."
Amazed at so bold an assertion,
But aware that he must make no mistake,
In silence, St. Peter long pondered,
For his name and repute were at stake,
Then placing the cat in his bosom.
With a "Whist now, and say all your prayers,"
He opened the heavenly portals
And ascended the bright golden stairs.
A little girl angel came flying,
" That's my kitty, St. Peter," she cried.
And, seeing the joy of their meeting,
Peter let the cat angel abide.
This tale is the tale of a kitten
Dwelling now with the blessed above,
It vanquished grim Death and High Heaven,
For the name of the kitten was Love.
Leontine Stanfield
---
A poem for the grieving...
Do not stand at my grave and weep,
I am not there, I do not sleep.
I am a thousand winds that blow,
I am the diamond glints on snow.
I am the sunlight on ripened grain,
I am the autumns gentle rain.
When you awakend in the mornings hush,
I am the swift uplifting rush,
of quiet birds in flight.
I am the stars that shine at night.
Do not stand at my grave and cry,
I am not there, I did not die...
Robert Hepburn